In chapter 1 of this series, we looked at what insufficient competence and diligence can lead to in the high hazard sector. Namely: catastrophic failure with associated fatalities and injuries, environmental damage, an impact on assets on and offsite, plus an impact on reputation both of the business concerned and the whole sector.
Developing, implementing and embedding clear Process Safety values and, with this, a culture to match and continually evolve within an energy transition era will enable us to prevent major accidents and, if failure does occur, mitigate the wider effects.
Take a moment to think about the scale of our sector, and within this its evolving nature as we adapt within the 'environmental revolution' that is driving the transition to a cleaner production of energy and process operations.
Within this transition, the process sector not only has to adapt to the novel developments and challenges that this will surely present, but also ensure that the controls we currently have in place remain, as a minimum, as robust as they are right now.
Sites operate at a wide and varying range of volumes and processes, all of which involve a level of hazard; be that because of the materials they are processing, or the complexity of operations and maintenance that is being undertaken. Executing these activities involves Plant, Processes and People. Each individual element – and, at times, combined elements – harbour risks that are very real!
With so many moving parts, how do we ensure the protection of People, Environment, Assets and Reputation? It's a tall order but one we can achieve through robust Process Safety Management – enabling sites to operate safely whilst maintaining a healthy balance sheet. After all, business is about making money …. But, making money safely!
Defining Process Safety
Vigilance is key to unlocking safety at a personal and process level – and about instilling this at every tier of the organisation. Personal Safety is paramount to mitigating incidents which have a higher likelihood with typically lower consequences; whereas Process Safety relates to incidents which are typically of low likelihood but significantly higher consequence. Personal and Process Safety work together, hand in hand.

There are two definitions of Process Safety that stand out as particularly useful:
The first from the Energy Institute:
"Process safety is a blend of engineering and management skills focused on preventing catastrophic accidents and near misses, particularly structural collapse, explosions, fires and toxic releases associated with loss of containment of energy or dangerous substances such as chemicals and petroleum products."
The second originates from the Centre for Chemical Process Safety and defines Process Safety as:
"A blend of engineering, management, and operational skills focused on preventing catastrophic accidents; particularly explosions, fires, and toxic releases associated with the use of chemicals and petroleum products."
Critical to both definitions is ensuring that we include all personnel in this journey, thus we need to focus Process Safety around:
"A blend of engineering, management, operations and maintenance skills" when referencing the relevant groups, this should also be extended to include visitors and contractors who are routinely invited into our 'work home' and have as much invested in delivering safe processes as do company personnel.
This is particularly important given that Process Safety concerns production and processing activities which have the potential to cause significant damage or injury.
The combined will of industry, trainers and regulators has driven safety to the top of the agenda, with a wide range of regulations, including the European Seveso Directive and COMAH, compelling every business to 'take all necessary measures to prevent major accidents involving dangerous substances, and mitigate their consequences should one occur'.
The Control of Major Accident Hazard (COMAH)
COMAH Regulations came into force in April 1999. They implemented the Seveso II Directive in the UK (excluding Northern Ireland) replacing the 1984 Control of Industrial Major Accident Hazards Regulations (CIMAH).

COMAH regulations were amended in 2005; the main effect of which was to broaden the scope of the regulations, placing a stronger emphasis on protection of the environment and human health.

The COMAH regulations were then significantly reviewed and amended again, in 2015, to bring them in line with the new Seveso 3 directive.  This third edition revoked the original 1999 regulations.
As detailed in the HSE's Guide to COMAH, the major differences include:
The list of substances covered by the Regulations has been updated and aligned to the Classification, Labelling and Packaging (CLP) Regulations
Some definitions have been changed
There are transition arrangements for safety reports
For emergency planning, there is a new requirement for co-operation by designated authorities in tests of the external emergency plan
Stronger requirements for public information including a duty for lower-tier establishments to provide public information. There are provisions for electronic access to up-to-date public information
The domino effects duty is broader, including a duty for members of a domino group to co-operate with neighbouring sites to share relevant information
Stronger requirements for the competent authority on inspection
Local authorities must now inform people likely to be affected following a major accident
Under COMAH 2015, the main aim of the regulations is to prevent and mitigate the effects of those major accidents involving dangerous substances, such as chlorine, liquefied petroleum gas, explosives and arsenic pentoxide which can cause serious harm to people and/or damage to the environment.
The enforcing agencies for COMAH in the UK (and referred to as the Competent Authority) are the Health and Safety Executive (HSE) and either the Environment Agency (EA) in England, Natural Resources Wales (NRW) in Wales or the Scottish Environment Protection Agency (SEPA) in Scotland.
Regulating Major Hazards
One of HSE's key purposes is to ensure major hazards are properly managed in industries where failures in safety management and risk control can lead to catastrophic harm to workers and the public at large.

As explained on the HSE's Regulating Major Hazards page, this model's responsibilities fall into two distinct industry sectors:

The Energy Division: Encompassing offshore oil and gas, the gas supply industry, pipelines and mining.
CEMHD: Including the chemicals Industry, explosives, biosafety and microbiological containment.
Introducing the Major Hazard Regulatory Model
In the UK, as part of regulatory guidance, we have the HSE's Major Hazard Regulatory Model, for safety management in major hazard sectors. 
The Major Hazard Regulatory Model is the tool the HSE uses to regulate major hazards, it describes the systems duty-holders need to have in place to manage them.
The guidance is broken down into core sections:
Introduction: This provides an overview of the guidance and regulatory model.
Principles: Details the principles that underpin the HSE intervention programme and the actions of HSE inspectors.
Aim: Details the aim of the HSE regulatory intervention programmes in the Major Hazard Sectors.
Delivery: An overview of how the HSE will work with major hazard sectors to promote sustained improvement, discussing and, where appropriate, intervening with duty-holders at the right organisational level.
Assessment: Of safety cases and safety reports
Inspection: Focusing on how well duty-holders manage risk through testing and sampling arrangements in critical areas, including the key control measures relevant to major hazard scenarios.
Investigation: This targets the key aspects of risk control, and protective and mitigatory barriers, to identify any core failings in the duty-holder's safety management arrangements.
Annex 1 of the Regulatory Model details 'How we expect duty-holders to manage major hazard risks.
The key with this is that it does not prescribe, in detail, what measures should be taken by the duty-holder to prevent a major accident or mitigate the consequences. That should be determined by the duty-holder on site!
Processing A Systematic Approach
Hopefully it is self-evident why onsite Process Safety has to be systematic, and it must include – alongside robust preventive measures – mitigation and emergency arrangements to limit the likelihood and impact of a serious event.
As per HSE guidelines, all Major Hazard Management Systems deliver the arrangements required for effective major hazard control and relate directly to the Process Safety Management systems.
These two elements correlate with each other under the systematic structure: Plan, Do, Check and Act!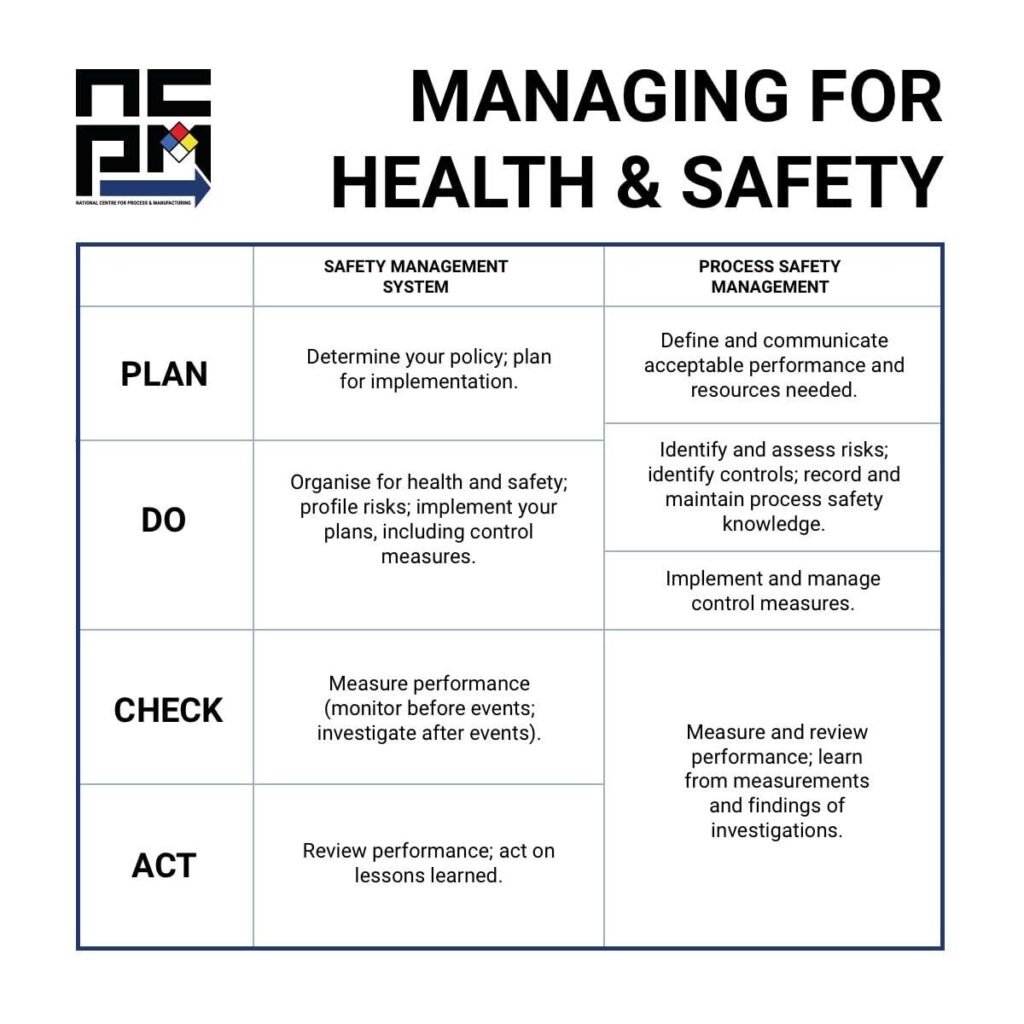 Major Hazard Management
The Major Hazard Regulatory Model makes it clear that the responsibility for managing risk lies with the onsite "duty-holder" and not with the Regulator. On the other hand, this doesn't mean that all the responsibility falls on the shoulders of the operators on the ground – their supervisors and managers have to ensure that equipment is fit for purpose and that everyone has been properly trained and briefed.
In this way, major hazard risks have to be managed in a multi-layered way and the layers of protection, or control measures, need to address technical, managerial and procedural arrangements. This means focusing on risk prioritisation and demonstrating that they have effectively implemented appropriate barriers and protective measures.
Process Safety Management runs through every stratum of an organisation, like a diamond-tipped drill through solid rock.
The HSE's 'Major Hazard Regulatory Model' includes a pictorial overview on how to approach this, which we call The Big Picture.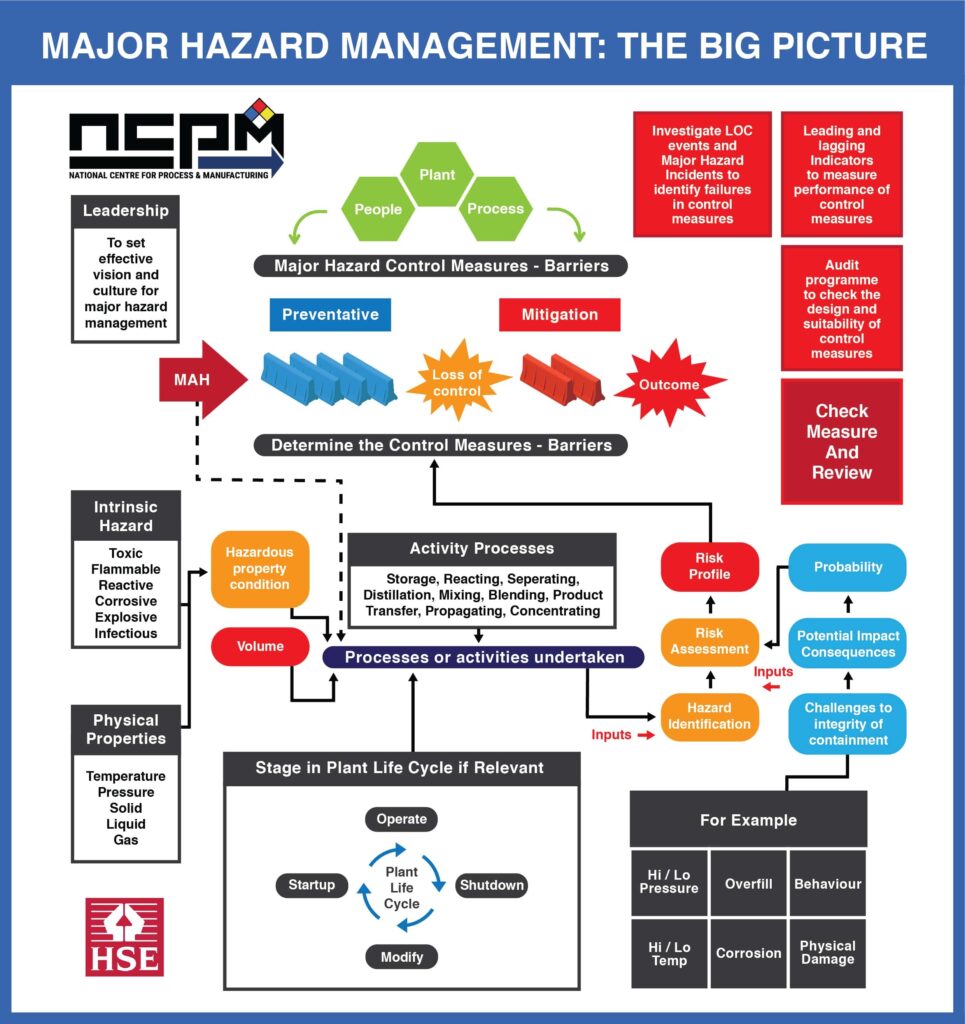 The Big Picture
Major Hazard Management can be broken into five core sections:
Leadership
Hazard Recognition
Risk evaluation and Prioritisation
Implementing Controls – Both Prevention and Mitigation
Check Measure and Review
We will explore The Big Picture and these five sections in the next few chapters, the first of which will be available in just two weeks.
NB: This article contains public sector information licensed under the Open Government Licence v3.0.
Teaching Safety is a Matter of Course
The secret to maintaining good Process Safety – and it's no secret, really – is ensuring that everyone on your site has had the training they need.
Our Intro into Process Plant Operations course is a great place to begin – offering learners valuable 'hands on' experience of safe plant procedures and plant familiarisation.

Our IOSH-approved Process Safety Awareness and Principles of Process Safety Management courses are the perfect way to ensure that everyone develops the competencies they need.

And, as we have seen, successful Management of Change is also crucial to the smooth and safe running of a facility. That's why we also offer a course on the Principles and Practice of Management of Change.

So, why not check out our full range of courses and get in touch, today.