Welcome to our continuing in-depth exploration of Process Safety Management in the High Hazard sector. In chapter 3 of this series, we looked at the first key area of the HSE's Major Hazard Regulatory Model, namely: Leadership, which should set an effective vision and culture for Major Hazard Management.

Now we move onto the next key area of the model, the all-important issue of Hazard Recognition.
Hazard Recognition in the Major Hazard Regulatory Model
Clear identification of Hazards forms part of that Risk Assessment process leading us to the implementation of appropriate barriers and protective measures, both preventative and mitigative.
So, what is a Hazard?
The Health and Safety Executive has defined a Hazard as:
"Anything that may cause harm; these can be Hazards to physical health such as chemicals, electricity, working from ladders, an open drawer or to mental health."
In the context of Process Safety, however, we need to look at the HSE's Major Hazard Management Big Picture, as discussed in the previous chapter.

In terms of Process Safety we could consider a useful definition is that supplied by COMAH 2015 (on page 11), where a Major Accident is defined as follows:

" … an occurrence such as a major emission, fire, or explosion resulting from uncontrolled developments in the course of the operation of any establishment … leading to serious danger to human health or the environment (whether immediate or delayed) inside or outside the establishment, and involving one or more dangerous substances."
Additionally, the EU's MATTE legislation (Major Accident To The Environment), which is a part of the Seveso III Directive, states:
"An incident will also be a major accident if it results in serious danger, whether realised or potential, to the natural or built environment. The effect may be immediate or delayed and may sometimes be relatively long-lasting but not necessarily irreversible. Operators should consider the potential for widespread loss or damage to the general environment as well as the risk of adverse effects on a rare, unique or otherwise valued component of our natural or built environment. Details of the surroundings will form part of the safety report for upper-tier establishments."
As such, we are obligated to create barriers to prevent and mitigate such occurrences and incidents.
To identify effective barriers we need to first identify the processes or activities undertaken and the Hazardous properties and conditions associated with those processes or activities.
Understanding of Hazardous properties comes from knowledge of the intrinsic Hazards – for example Toxicity, Flammability and Reactivity. We can combine this with the physical properties of the substance, whether it's liquid, solid or gas; as well as the effects of temperature and pressure and how these can potentially alter the nature of the Hazard, for example will they change their physical form when released from a liquid to a gas.
The volume of any particular substance is also critical, as this increases the Hazard potential and can have an impact in relation to regulatory compliance under COMAH.
We also need to identify the Activity Processes being undertaken which can include Storage, Mixing, Blending and Transferring of materials.
The final element of this understanding is to consider the point in the Plant Life Cycle in which the activity is being undertaken. The core elements are Start-up, Operate, Shutdown and Modification; however other elements also need to be considered in the Plant Life Cycle process, including Design, Commissioning and Decommissioning.
All levels are relevant, even Start-up and Shut-down, which are often overlooked, yet reflect some of the highest potential for a Hazard being realised. Using this structured manner you will develop a clearer understanding of the Hazards associated with your activities.
These elements are illustrated in this detail from the diagram about hazard recognition in HSE's The Big Picture, – which you can view in full in chapter 3 or by clicking here: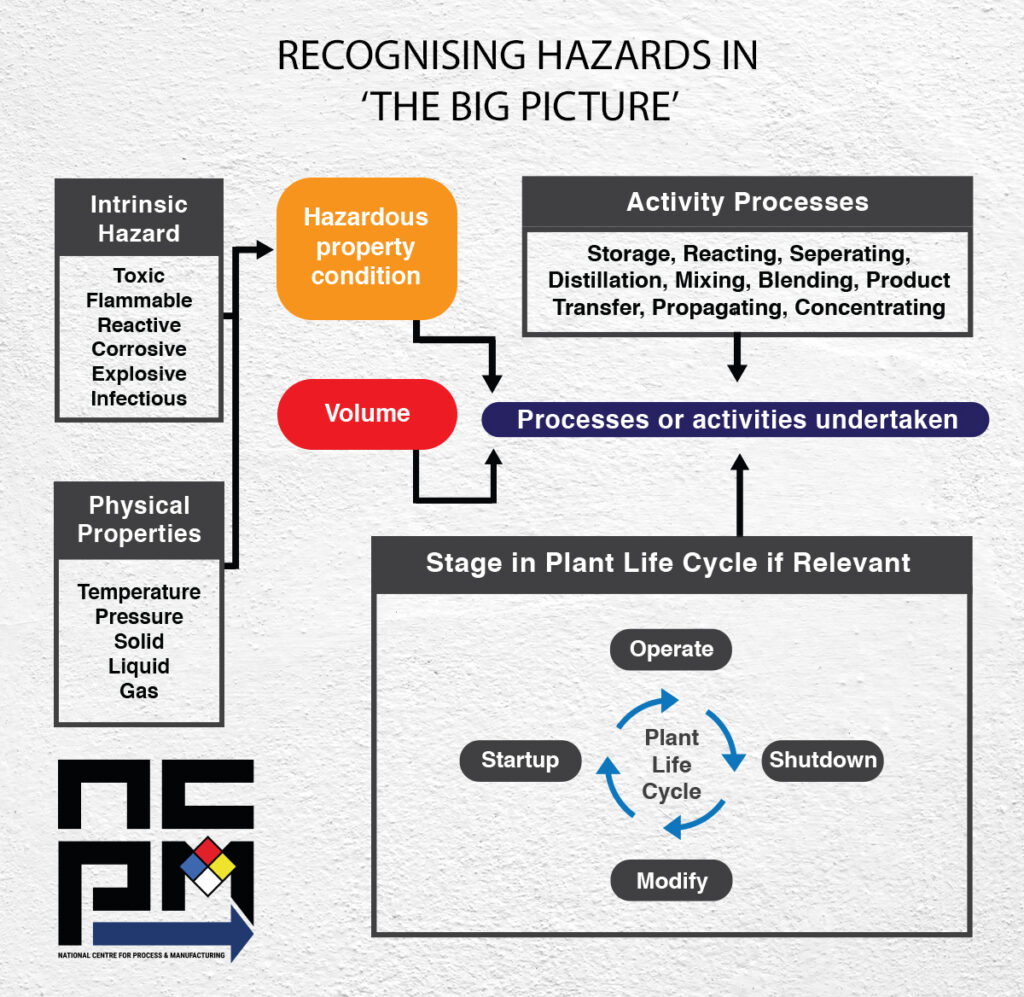 The Tools for Hazard Recognition
Given the importance of spotting such Hazards, there are a wide range of tools we can employ to identify Hazards, some of which also evolve into the wider Risk Assessment process. These tools can include (but aren't limited to):
Checklist: Checklists are based on past experience and list known Hazards or causes of Hazards that have been identified in previous risk assessments or have contributed to actual incidents.
What-If Hazard Analysis: This is a scenario-based Hazard evaluation procedure which employs a multi-disciplinary team who ask difficult questions or voice concerns about 'what-if' scenarios, discuss consequences and whether existing safeguards are adequate.
Modelling: Modelling generally employs some form of simulation and is useful because the behaviour of substances can alter as circumstances change throughout a process, enabling the testing of a range of scenarios that can include different controls to identify their effectiveness.
HAZID (Hazard Identification Study): This structured approach is designed to identify undesirable consequences, then to identify Hazards which could cause those consequences.
HAZOP (Hazard & Operability Study): This is a structured and systematic examination of each element or process of an operation in order to identify and evaluate problems.
HAZID – Hazard Identification Study
These studies are normally adopted to identify all the possible undesirable consequences that could occur and then to identify Hazards which, when realised, would cause that consequence.

Once the list of Hazards has been established, each Hazard is then reviewed to see whether it is significant enough to need to be evaluated further.
A structured approach to identifying undesirable consequences is normally adopted, based around the broad categorisations of PEAR, namely: People, Environment, Assets and Reputation.
This should result in the creation of Checklists.
Hazard Registers from similar activities and previous HAZIDs are also used, in order to assist in the task of Hazard Recognition and Consequence Recognition.
HAZOP – Hazard and Operability Study
A Hazard and Operability Study (HAZOP) is a structured and systematic examination of a planned or existing process or operation in order to identify and evaluate problems that may represent risks to personnel or equipment, or may otherwise threaten to prevent efficient operation.

It is a Qualitative Technique based on Guidewords and a multidisciplinary team attending set meetings. Its purpose is to identify the cause and consequences of perceived mal operations of equipment and associated operator interfaces, in the context of the complete system.

HAZOP accommodates the status of recognised design standards and codes of practice but, rightly, questions the relevance of these specific circumstances where Hazards may remain undetected.

A HAZOP team consists of:
Study Leader: Who is experienced in HAZOP but not directly involved in design, so can offer impartiality.
Recorder: Whose role is to clearly document the process, ensuring that recommendations are passed on.
Designer: Who has in-depth knowledge of the design and can explain key functions.
User(s): Who provide 'in use' questions and challenge operation and also provide deviation methods.
Specialist: Who provides core knowledge not otherwise available to the team (if needed).
Maintainer: Who highlights maintenance issues and potential issues.
A HAZOP study will employ a checklist table to assist navigation through the range of parameters and relevant Guidewords, in a consistent way. These Guidewords are defined as:
None: No forward flow when there should be
More: More of any parameter than there should be – eg: more flow, more pressure, more temperature, etc.
Less: As above but less of any parameter
Part of: System composition difference from what it should be
Other than: What needs to happen other than normal operation – eg: startup, shutdown, maintenance
Reverse: Caused by pump failure: NRV failure or wrongly inserted, wrong routing, delivery over-pressured, back-siphoning, pump reversed
Right click to download this HAZOP checklist table: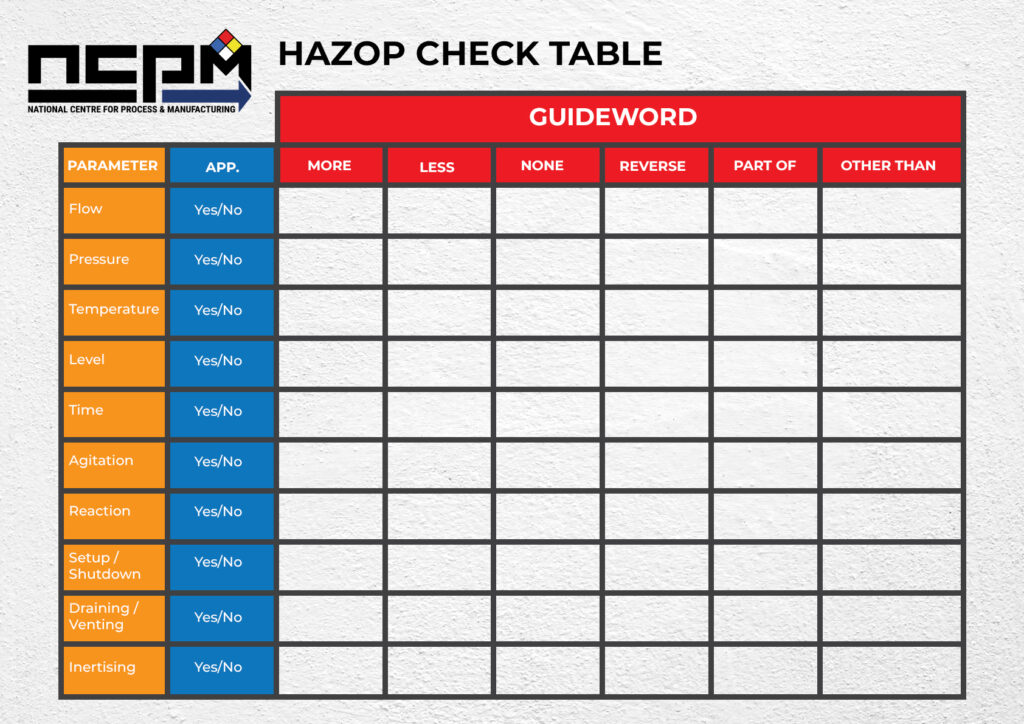 Bow Tie Diagrams
The Major Hazard Regulatory Model expects dutyholders to understand that major Hazard risks have to be managed in a multi-layered way and that the layers of protection or control measures will address technical, managerial and procedural arrangements.
Layers of protection can be depicted as a 'bow-tie' to emphasise the way barriers link in sequence in relation to each major Hazard scenario.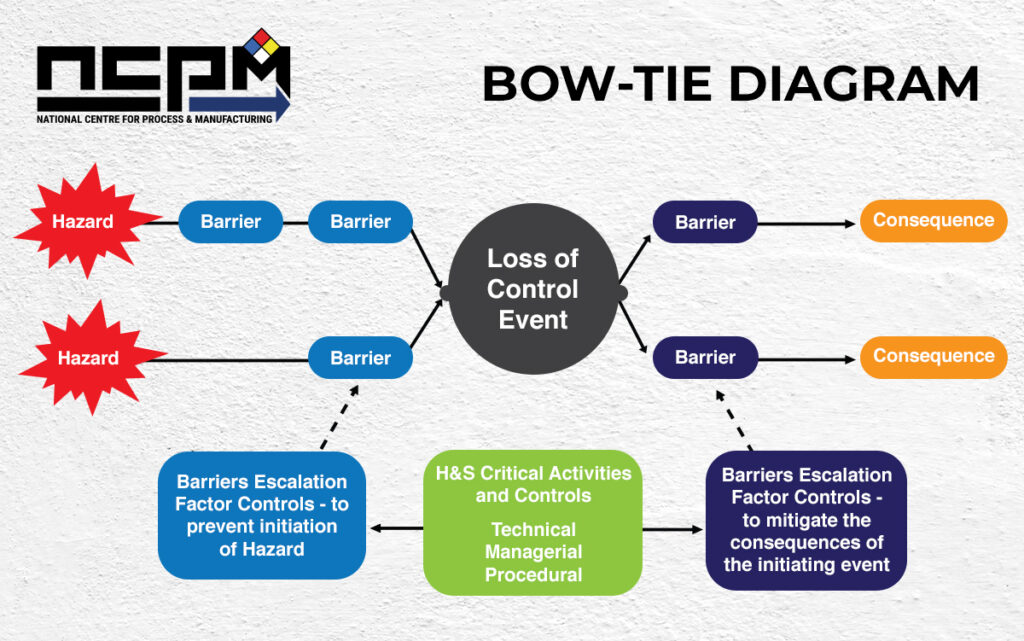 The dutyholder should be able to show a logical and rational flow of analysis leading from Hazard recognition through to effective Risk control, expressed as a set of appropriate 'barriers' (or Risk Control Systems).
So, as you can see, there are a range of techniques we can apply to help identify potential Hazards and eliminate or control them within our workflow.

Such techniques rely on the expertise and prior experience of qualified employees, as well as the diligent and imaginative commitment of staff at every stage of the process and at every level of a business. This is why we, at Reynolds Training Services, are so committed to helping ingrain competence and responsibility into every delegate we train.

Safety is not somebody else's responsibility. If everyone in a facility is not trained and committed to Process Safety – that becomes our industry's single biggest Hazard!
Contains public sector information licensed under the Open Government Licence v3.0.
Teaching Safety is a Matter of Course
The secret to maintaining good Process Safety – and it's no secret, really – is ensuring that everyone on your site has had the training they need. That's as important in the management suite as it is in the process plant.
IOSH Process Safety Awareness Provides learners with the core understanding and awareness of process safety within a high hazard environment and demonstrates how effective process safety underpins safe site operations.

Also, our IOSH-approved Process Safety Awareness and Principles of Process Safety Management courses are the perfect way to ensure that everyone develops the competencies they need to work safely at every level of business.
And our GQA Level 5 Diploma in the Principles and Practice of Process Safety Management course is specifically customised for Supervisors and Management. This course explores concepts around Leadership, Hazard Recognition, Risk Assessment, Prevention and Mitigation to confirm systems are working as designed.

So, why not check out our full range of courses and get in touch, today.